Automation is transforming the IT support ecosystem. Done well, automation can reduce incident queues, streamline processes, and improve customer experience (CX). MSPs work hard to manage client ecosystems, so looking to automate processes is the best practice. By leveraging automation, Managed Service Providers (MSPs) can take repetitive, time-consuming tasks and transform them into automated workflows. This allows their people to shift from reactive to more strategic support, providing more value to the end customer. This blog will look at how to use it to improve your IT service offering. 
Explaining the terminology
Let's start with the basics:
Remote monitoring and management (RMM) is the process of monitoring, supporting, and managing IT systems using locally installed agents that an MSP can access.

Professional services automation (PSA) is software that supports MSPs with resource management for client projects and utilization rate management for billable staff.
Look for automation opportunities that will add the most value
When looking for ways to make processes more efficient, please speak to your people and ask what is causing them the most pain. Some common areas where automation could help include:
Help or service desk tasks and ticket management
Use templates and workflows to increase efficiency
In short, if in doubt, use a template! Templates will provide a consistent look and feel, making your tech and supporting work practices easier to navigate. A further benefit of templates is that you can use them to model responses. For example, you can pre-populate forms and build in triggers for implementing workflows from within your RMM tool. 
Workflows make practices more repeatable, and you can make processes leaner by reusing or expanding your existing workflows. Look for work practices with common triggers, inputs, and outputs, and consider if you can use what you already have in place for standard practices like a ticket, patch, and event management.
Ticket management
Look for ways to automate ticket management so that new tickets can be automatically routed to the correct team based on category, allowing your team to respond more quickly to client issues. Another potential option is to look for ways to automate responses to common issues so that your team has more time to respond to complicated tasks requiring more human intervention. 
Event management
Use automation to notify technical teams by linking services to support groups and intelligent alerting to set a threshold for when support needs to be called out. The threshold will allow the system to differentiate between requiring human intervention (for example, in the event of network failure) and merely being given an informational notification (for example, a backup has finished running successfully). This is important because it will help you cut through the noise and ensure that your team only responds to alerts that need to be actioned, saving time and effort. Ensure the tool has the correct contact details for each team so they can be notified by email or text in the event of an appropriate occasion.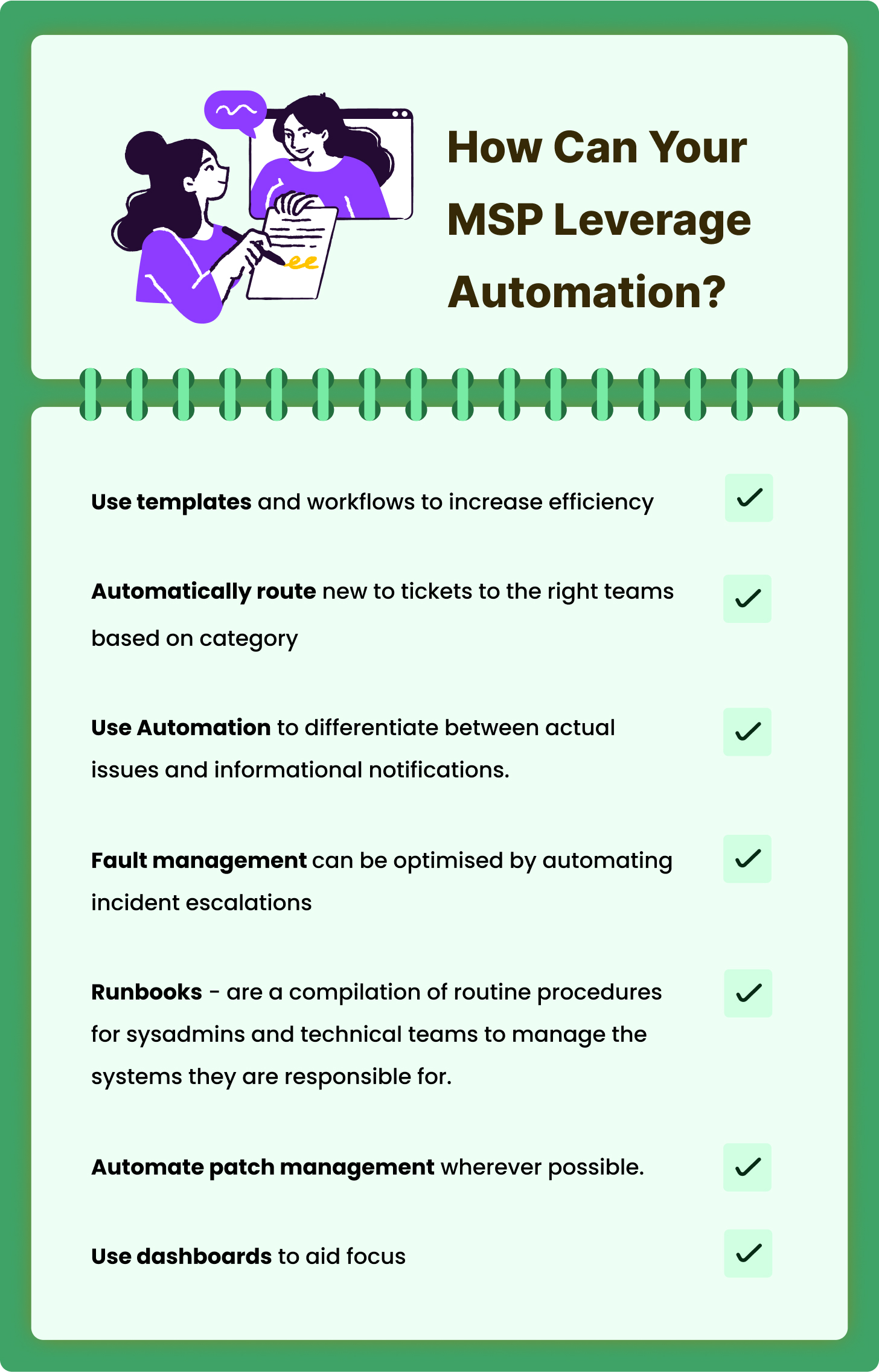 Fault management can be optimized by automating incident escalations
There are two key types of escalation: functional (for the next level of technical support) and hierarchical (for management escalations). For both types of escalation, make sure there is a defined process with the right people mapped to the correct path by using an escalation matrix. 
Runbooks
Runbooks are a complication of routine procedures for sysadmins and technical teams to manage the systems they are responsible for. They can be used for onboarding, automation, and collaboration. Runbooks can start, stop, monitor, or debug an IT system. Runbooks can enable you to configure the system in question to initiate a series of conditional steps to maintain or restore service. Another benefit of runbooks is that you begin to build an index of all routine processes, making adding more automation over time more accessible. Examples include issuing service notifications, data enrichment, or containing threats automatically as part of an IT security response process.
Updates and patch management
Automation can improve updates and patch management by improving accuracy and reducing the potential for human error. When looking to automate this, build in steps so your environment can be scanned for vulnerabilities and patches can be automatically deployed in line with your patch management policy.
Invoicing and billing
Let's face it, bills are always painful, but there are ways to lighten the load. Some examples could include automating billing workflows to calculate various charges and combine them into a single invoice. This can be used to invoice clients to save time and eliminate errors automatically.
Address pain points by using analytics
Use reporting and analytics to identify your most frequently logged tickets and find ways to solve them. Look at the frequent flyers and see if they can be addressed, mitigated, or automated.
Use dashboards to aid focus
We love a report or dashboard in MSP land. Walk into any MSP support environment; you'll see entire walls devoted to reports and performance metrics. However, we often focus on creating reports and metrics because we can rather than because they add value. This has to stop. Instead, when looking to create reports, use the Lean Sigma approach of the voice of the customer. Ask yourself, "what would my customers and stakeholders want to see?" and build your reports around that. Create reports to monitor key metrics such as service availability, system capacity, storage alerts, event notifications, and network performance so support teams can focus their efforts and that any issues can be quickly identified, acted on, and fixed.